THE Remodel Group received the award for best Major Home Remodel ($250,000 – $400,000) at the September 2019 Oregon Home Structure + Style Awards. Presented annually by Oregon Home Magazine, the Structure + Style Awards recognize the best in local building, remodeling, and design. 
Thank you to Oregon Home Magazine for the recognition of our project; THE Remodel Group is honored to receive this award.  Many thanks to designer Angela Todd of Angela Todd Studios and to our fantastic subcontractor team. To see the list of subcontractors, scroll down to the end of this post.
About the project:
THE Remodel Groups's winning project was a stunning crawlspace conversion. Here's a look at the before and after:
Before: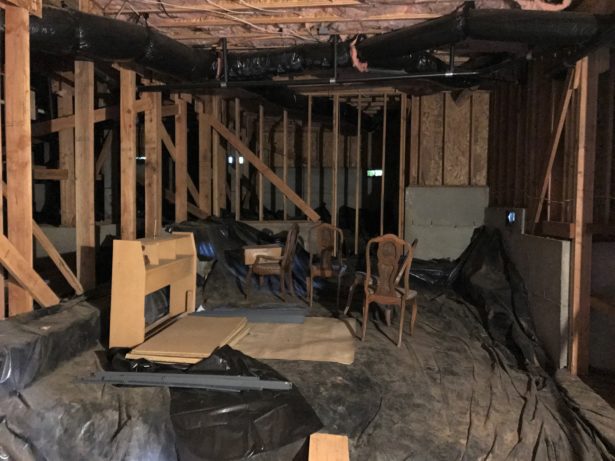 After:






Overview of the project:
Never intended for future conversion, this dark, cavernous space was a haphazard, multi-level maze of framing, footings, stem walls, ducts, pipes, and wires. Transforming it required creating an internal connection to the main floor, rerouting all MEP (HVAC, electrical, plumbing) and low voltage systems, hiding structural elements, integrating new windows and doors for a seamless exterior look, and waterproofing. 
Creativity was definitely the name of the game!  Doubly so, because building to plan would have required expensive and impractical concessions in several areas due to existing conditions. Innovative alternatives were needed to preserve design goals and direction, but also to allow delivery within the client's budget. Bringing this beautifully-designed project to life in such a technically-challenging space was a rewarding exercise in collaboration between contractor, designer, and client.  
The end result?  Repurposing this raw space increased the client's living area by over 50%.  Now transformed beyond recognition, this delightful area incorporates a family room, game room, bar, exercise room, bathroom, and bedroom – seamlessly integrated with the rest of the home. Best of all, it was delivered on time and on budget.   
Want to know the finer details of the project? Read on below.

 
How did you create a connection to the upper level of the home?
Parts of an existing coat closet and kitchen pantry were commandeered to create this connection. This provided a central access to the basement from the main floor without required expensive retrofit of the kitchen, living room, and entry.
How did you hide the existing structural components such as footings, stem walls, pipes, ducts, and wires for both the new space and the rest of the home?
Structural and mechanical components were hidden in design elements such as extended soffits and deep sills.  You can see an example of this in the bedroom, where we turned structural elements into shelves and niches rather than furring out the walls to cover them which would have made the room smaller and created an odd look for the window.  Another example is found along the exterior wall of the bar and family room where we ran mechanicals in high soffits so they essentially disappear.
How were you able to complete such a complicated project on budget?
Thorough investigation prior to pricing a job was the only way to make this happen.  We worked closely with our MEP subcontractor partners early on as placement of systems was key to both cost and design.  Our collaborative relationship with the designer was also critical. We all worked as a team to modify the design for cost and function without compromising the aesthetic.   Some examples include:

Floor and ceiling heights were creatively transitioned to accommodate MEP components so expensive concrete and excavation work could be minimized.

The locations of the bar and bathroom were swapped, eliminating the need for additional costly pumps

.

Altering window and door dimensions brought them within standard parameters, saving the expense of custom pieces.

Designing and building our own trim eliminated expensive millwork.

These and other creative alternatives cut costs, ensuring the project was delivered within budget.
Did these changes cause the project to take longer than expected?
A thorough investigation of the site prior to planning a project is the only way to create a realistic schedule.  Because surprises were eliminated through good preparation, we were able to stick to our schedule and deliver this project within approximately four months. We even had a last-minute HVAC upgrade decision by the client and a myriad of design details that could only be resolved within the context of construction!
Oregon Home Award Subcontractor Team:
Company Name: Gale Contractor Services
Description of Service:

Insulation
Company Name: MDS Architecture
Description of Service: Architecture Design
Company Name: Mainly Cabinets
Description of Service:

Custom Cabinetry
Company Name: West Coast Granite & Flooring
Description of Service:

Countertop Installation
Company Name: Flow-rite Plumbing
Description of Service:

Plumbing
Company Name: Fixture Gallery
Description of Service:

Plumbing Fixtures and Accessories
Company Name: Contract Furnishings Mart
Description of Service:

Tile and tile supplies, and flooring
Company Name: Globe Lighting
Description of Service:

Lighting
Company Name: Pyramid Heating & Cooling
Description of Service:

Remove and replace existing duct work, relocate gas line, new gas furnace, new air conditioner
Company Name: Multiphase Electric LLC
Description of Service:

Electrical
Company Name: Westside Gutter Systems and Supply LLC
Description of Service:

Facia Gutter system
Company Name: Kerry Becker Concrete Company, Inc
Description of Service:

Slab
Company Name: Broadway Construction 
Description of Service:

Framing
Company Name: Southgate Wallboard, Inc
Description of Service:

Drywall
Click here to see more pictures from this project. Click here to learn more about our Home Addition services.