When you bought your home, that small kitchen layout might not have seemed like a major drawback. Now that you're using it, however, you realize just how cramped it is. Or maybe your family has grown and what was fine before is definitely not working anymore.
Whatever your situation, before you run to your realtor to put your house back on the market, check out these 9 kitchen remodel design ideas to make that tiny space seem much larger and increase your home's resale value down the line.
1. Optimize Cabinets & Storage Solutions
When considering a kitchen remodel, discussing your cabinet needs with an experienced contractor will offer solutions that are thoughtfully designed and specifically modified to fit your kitchen
Installing custom cabinets is a great way to maximize the functionality of your space. Most contractors utilize custom cabinetry that will help fill spaces around appliances or provide unique setups in under-utilized nooks, tailored to your kitchen.
With deep cabinets, pull-out drawers allow you to place things all the way in the back without losing them forever. Skinny cabinets also become more useful with the addition of sliding shelves, perfect for smaller pantry items or spices.
Items take up way more space when they're in disarray, and custom-built cabinets increase your storage options while minimizing the chances for wasted empty space in your kitchen layout.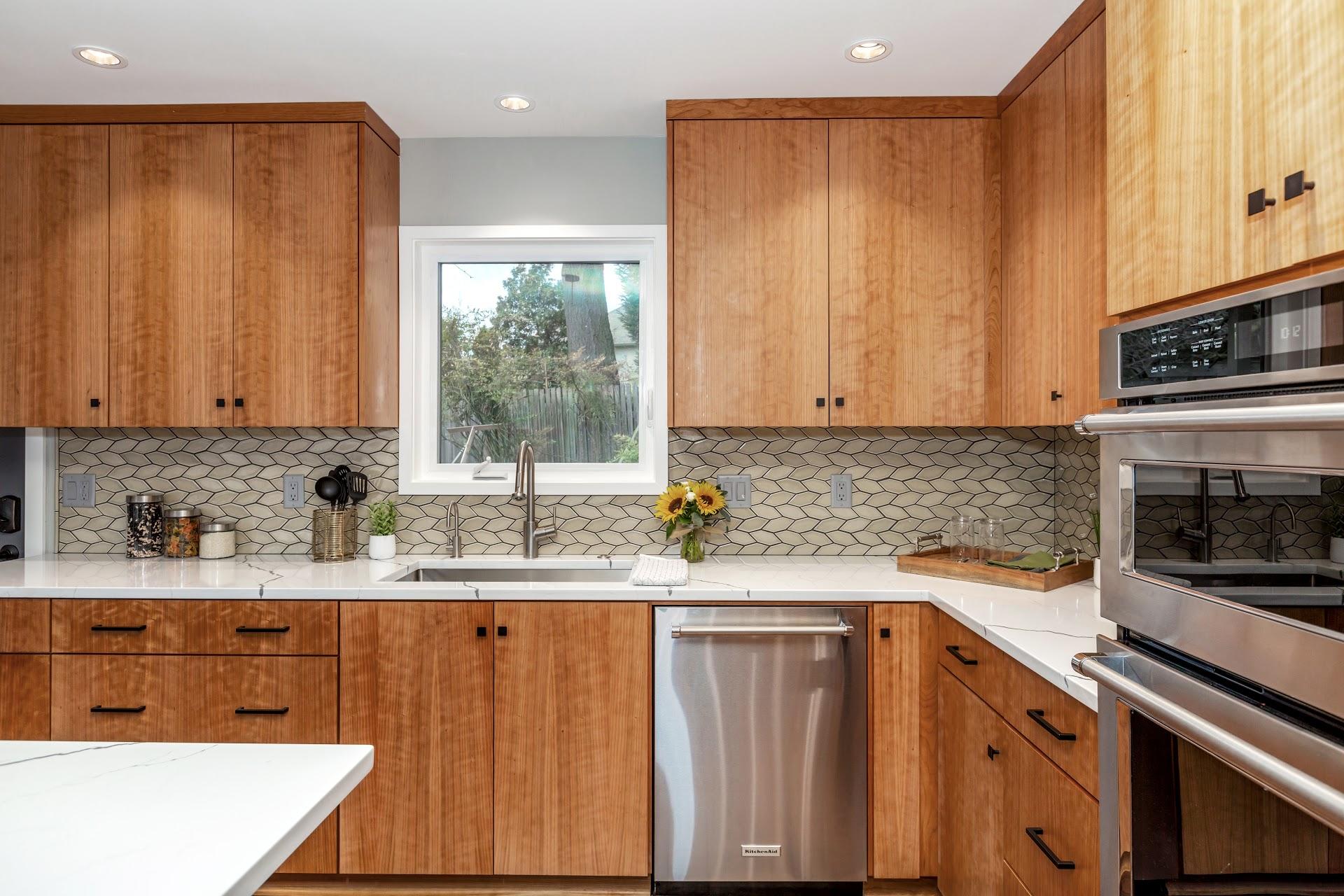 2. Vertical Space
When you have limited square footage, one way to maximize the space is to go up!
Using vertical space will make your kitchen feel much bigger. Take your upper cabinets to the ceiling, add racks or floating shelves for kitchen items, or update your backsplash to draw the eye up.
Working with an expert kitchen remodeler will help you blend the highest functioning elements into a design that fits your home and style.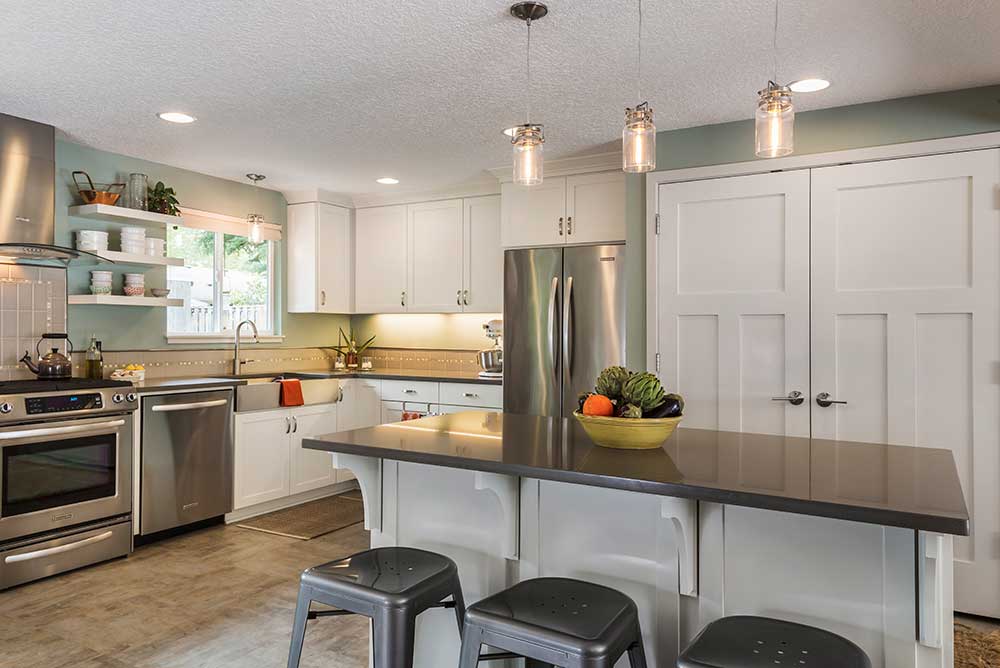 3. Multi-Functional Components
If your home lacks dining space, you may be able to pull double duty with your eating area and prep surface. Kitchen islands are incredibly handy if you've got the square footage for them, and they offer an abundance of uses:
     

Prep space

     

Storage

     

Dining

     

Working
If you have space to include a range in your kitchen island, that frees up the areas along the walls for additional countertops and cabinets.
A trained professional will help you plan your entire kitchen layout, first evaluating whether your space would allow for a kitchen island and then planning the ideal setup for your square footage and practical needs.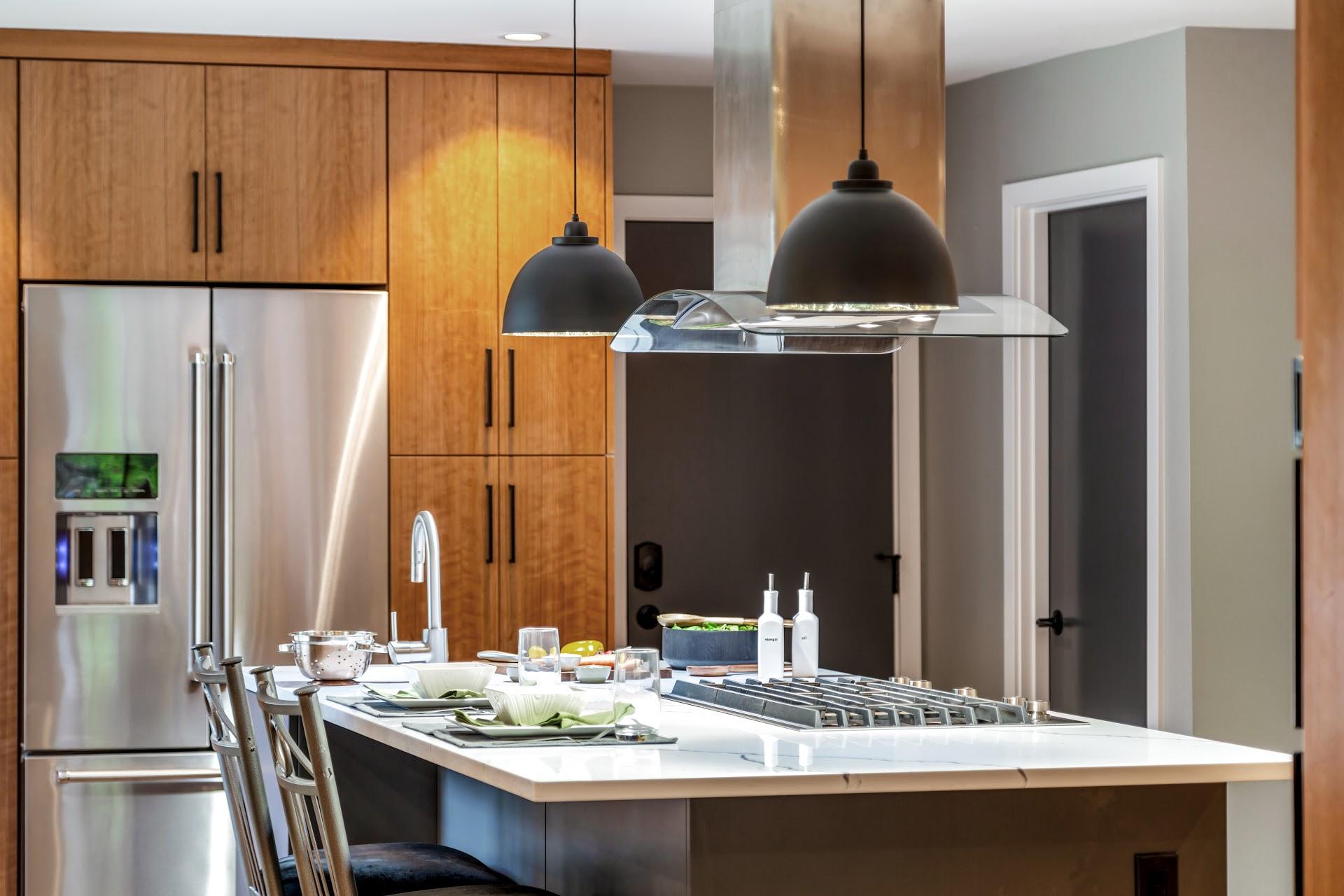 4. Open Shelving Displays
Despite your limited floor space and cabinet storage, you may have tons of usable real estate on your walls. Open shelves are the perfect way to display stylish dishes and glassware, cookbooks, or small appliances. Dry goods like beans and pasta become art when displayed in clear jars on open shelves. By removing these things from cabinets and drawers, you've now freed up space for items you'd rather keep hidden.
Additionally, creative use of shelving can be much more than just a storage solution. It creates visual interest on an otherwise empty wall and brings unique personality to your space.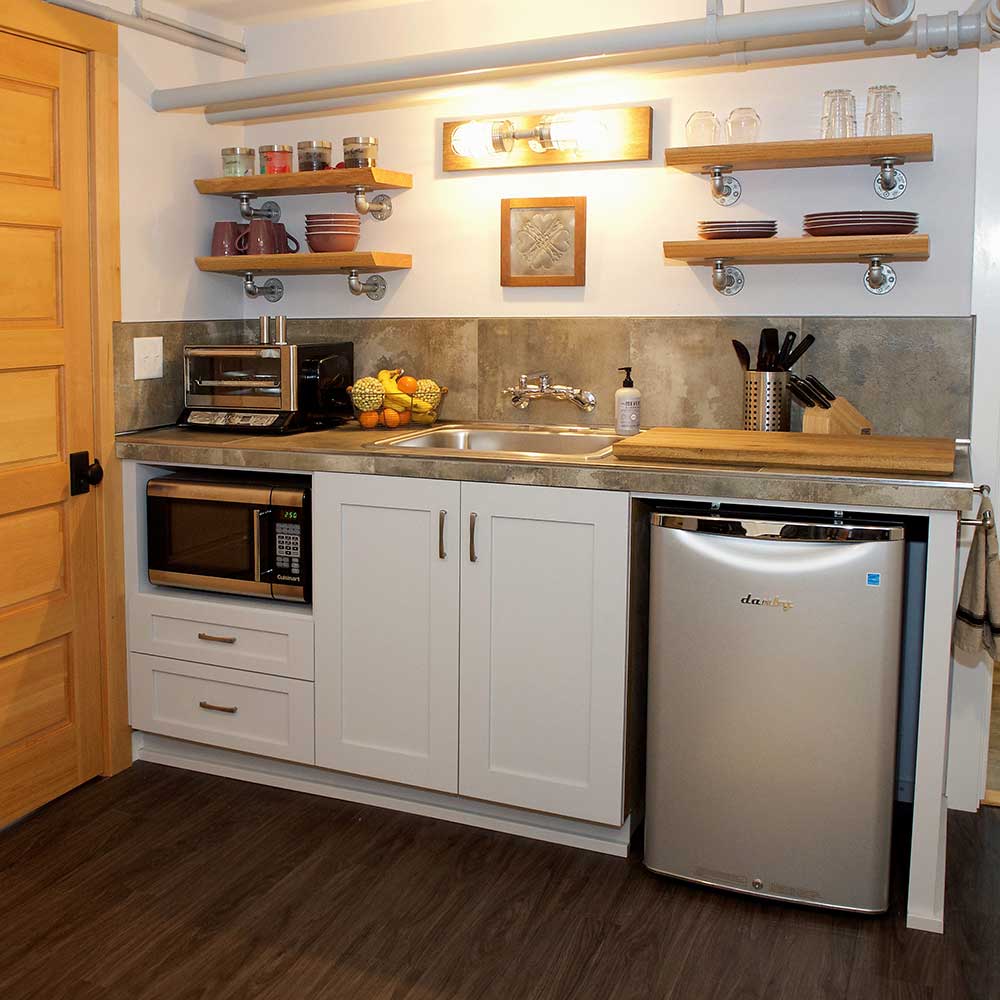 5. Upgraded Technology
Make your kitchen function more effectively by using the latest technology.
Advancements in the technology of kitchen appliances and smart devices integrate seamlessly into your layout and design, making small kitchen life much easier.
Voice assistants like Google Home or Alexa connect to smart devices, allowing you to complete tasks via hands-free commands. With just your voice, turning lights off and on, starting your morning coffee pot, or setting timers will reduce the amount you need to maneuver in your small kitchen space.
Today's increased focus on sustainability means making every square foot count. In response, companies are finding ways to do more with less, offering high-tech appliances in smaller sizes. A variety of new appliances like refrigerators, ranges, and dishwashers are specifically made for compact spaces without sacrificing functionality.
An experienced kitchen remodeler will be able to recommend high-tech appliances and install them in a way that will bring your kitchen into the future.
6. Light Colors
Be strategic when picking out the colors of your finishes. Dark tones make smaller rooms appear even smaller. For cabinets, choose a light wood or bright white to get the most impact. Countertops and tile backsplashes done in light colors keep your work surfaces bright.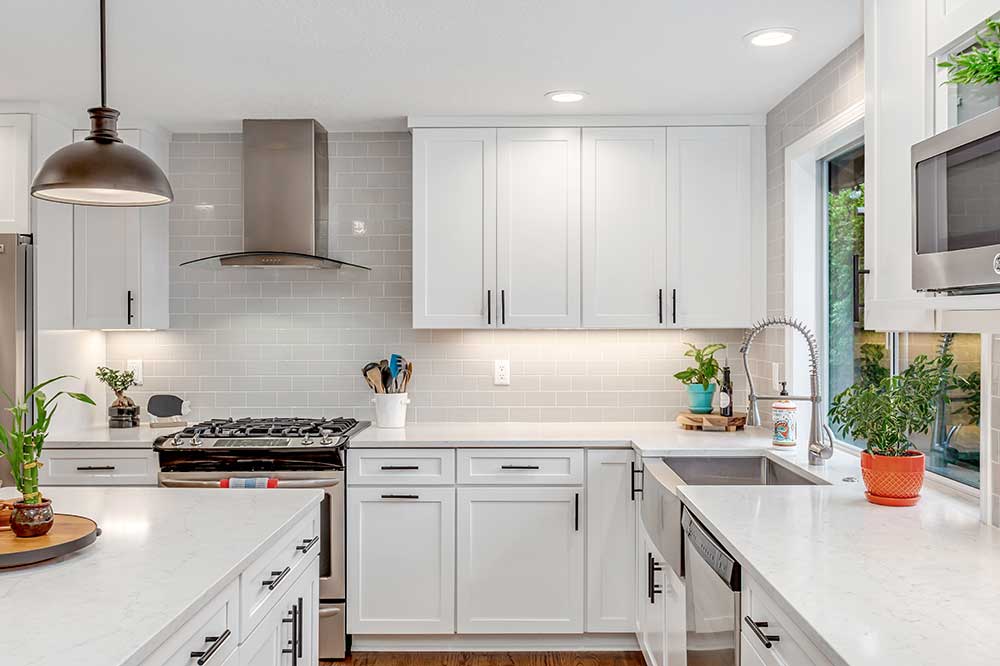 Don't forget to think carefully about the paint color as well. Even if most of the wall space is covered by cabinets or a tile backsplash, the paint you select has a huge effect on the room's perceived size.
A skilled design and remodel firm will provide insight into color palettes that enhance the kitchen space and also bring out your unique style.
7. Lots of Light
Similar to color choice, the amount of light you plan into a space has a huge impact on how it feels.  Abundant light makes even small rooms feel spacious. Natural light is one of the most efficient ways to achieve this; sunshine also provides warmth, especially when it's a little bit colder outside.
If your kitchen area lacks natural light, consider enlarging the existing windows or adding more windows or even skylights to let in the natural light and make the space feel more open. A contractor will help you determine what's possible with window placement in your home.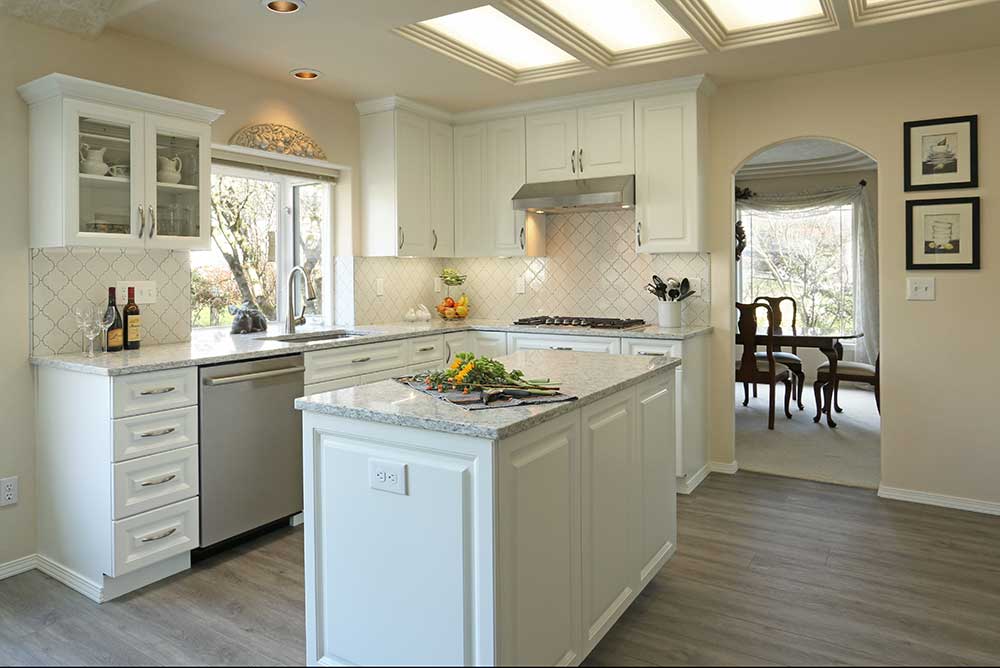 The next best thing to natural light is adding lighting fixtures.
Recessed lights in ceilings make your kitchen feel more spacious, as the light fixtures are set into the ceiling rather than hanging— taking up less visual space.

Under-cabinet LED lights are optimal for task work as they minimize shadows while you use your countertops to prepare and cook.

Pendant lights and chandeliers increase the overall light in the space and allow you to add design interest with a pop of color or distinctive shape.
Lighting is integrated into your overall kitchen layout during a remodel to serve both function and design.
8. Extended Countertops
Not enough counter space? A trained professional will assess the potential of your kitchen space, planning out countertops and appliance placement to take full advantage of your small kitchen layout. Plus, updated countertop material will add a refreshed look to your kitchen!
Beyond a simple pull-and-replace, a remodeler will help reconfigure your kitchen layout within the same footprint. Whether that be rearranging your appliances for better function or finding space where countertops can be extended, a contractor will fit the components of your kitchen together in a way that makes the most sense for your space and needs.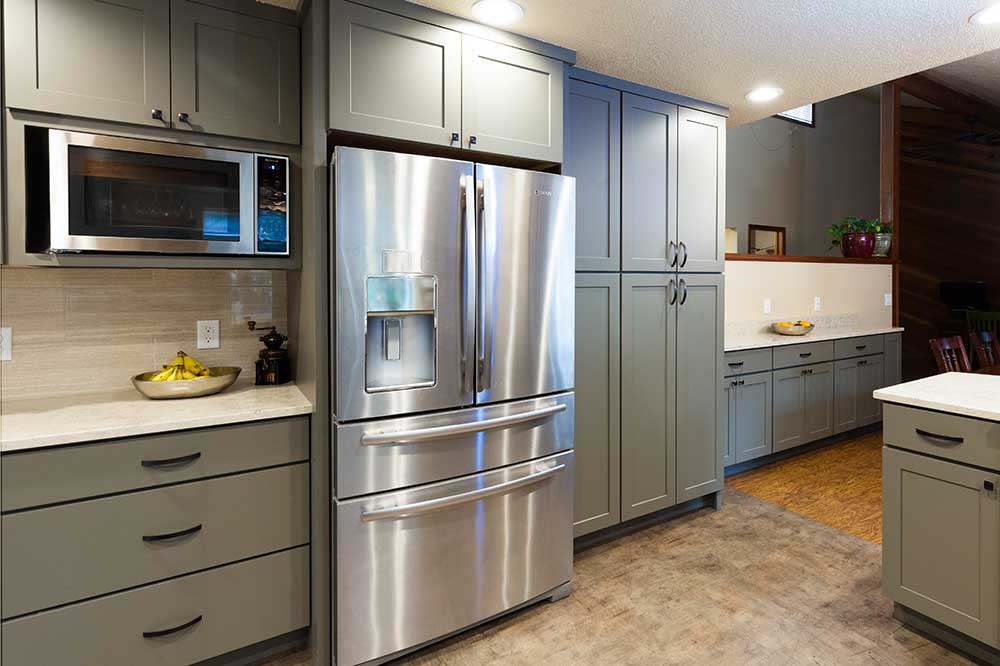 9. Room Expansion Opportunities
Sometimes your needs extend beyond the square footage you currently have available in your kitchen. Maybe it is time to knock down some walls and borrow from adjoining rooms. Or consider an addition that expands your interior space from your unused exterior space.
A kitchen expansion project like this is more extensive, but the result is well worth the time and cost investment. With the help and expertise of a kitchen remodeler, you're able to create the perfect cooking environment for your skills to thrive.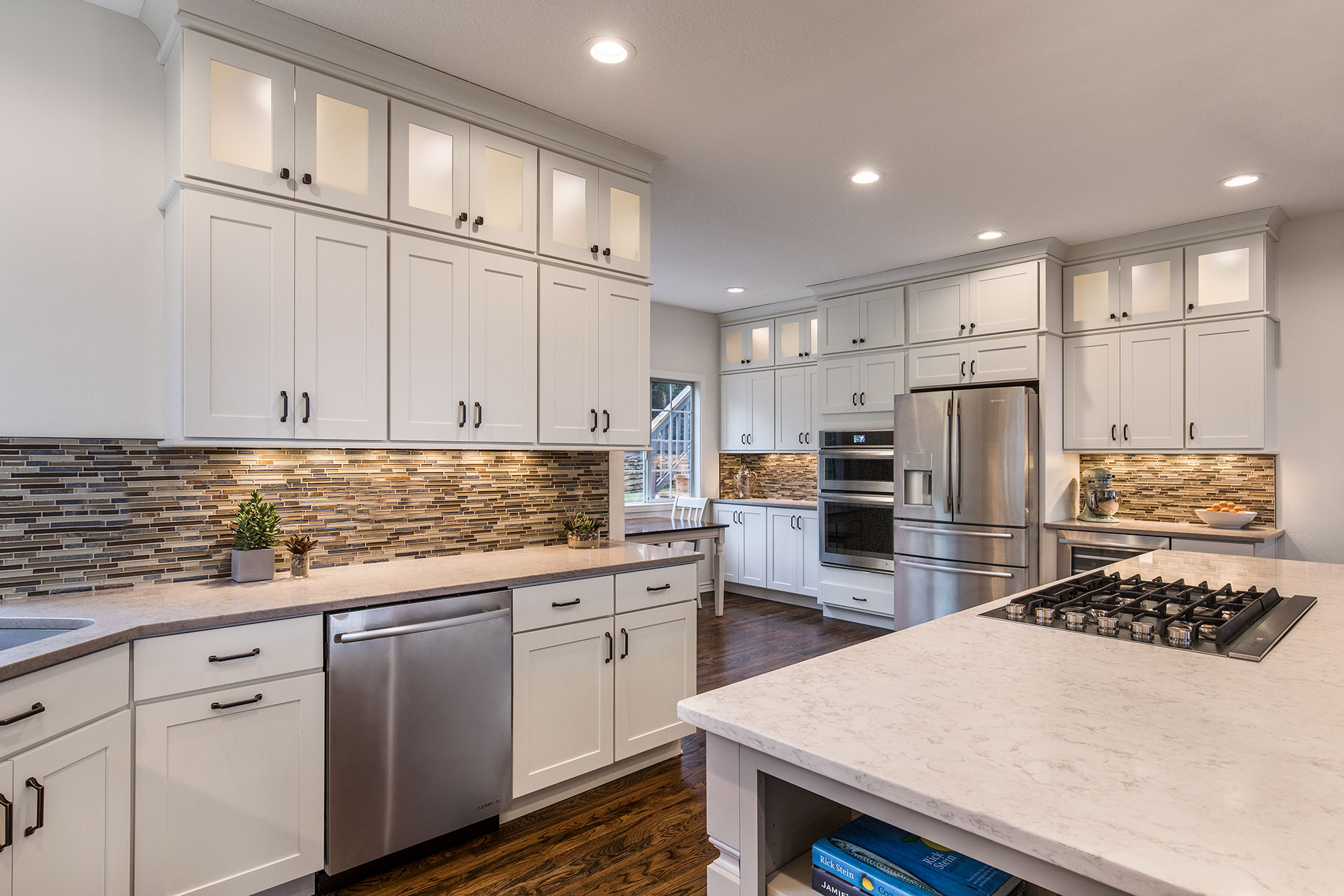 Work With An Experienced Kitchen Remodeling Contractor
To get the most out of your small kitchen layout, let the design experts at THE Remodel Group recalibrate your space. We know how to work with minimal square footage to deliver maximum efficiency.
Reach out today to start capturing the vision of your dream home.