The kitchen is arguably the most important room in your home because it is the center of your family's day-to-day living. It's where you gather (or run through quickly) to start your day and where you come back together as a family, a couple, or a large group in the evenings to make dinner and lasting memories. It's the scene of many messes and the host of delicious aromas. Your kitchen is a bonding area that ties your home and your family together. 
That being said, a kitchen remodel is an important decision and one that people don't regret. Because it is such a highly used and enjoyed space – it should function and look like the kitchen of your dreams. 
We have compiled a list of kitchen design and remodel trends to use as inspiration as you're planning your kitchen remodel! 
Appliances
A kitchen remodel often starts with the need or desire to update your kitchen appliances. Oftentimes, you can just pull and replace old appliances. You may also find that the new doesn't quite fit the mold of the old and a few more updates are in order. 
What type of kitchen remodel is the best fit for my needs?
In general, the latest appliances are not only more efficient, but they are also more beautiful to look at. That said, do not prioritize form over function. Remember, appliances are long-term investments. If you are planning to sell the property, check with local property agents to confirm whether investing in new appliances will fetch you a higher price for the property. Of course, if you plan to continue staying at the house, then the investments made in appliances will improve the kitchen's efficiency and performance.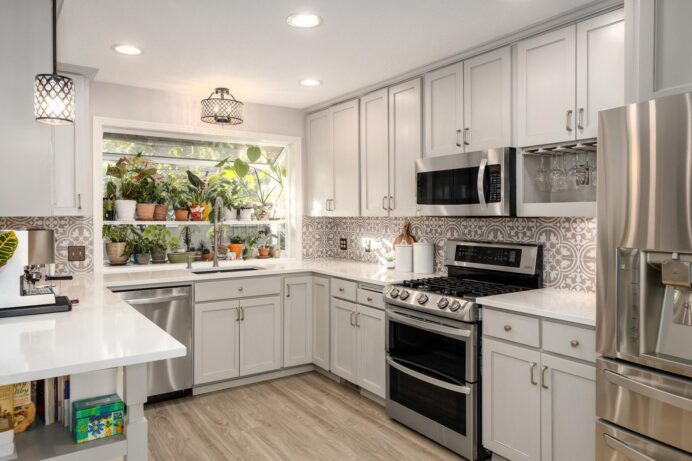 Kitchen Backsplash
Style AND function! What's not to love? Your kitchen backsplash is not only a "mess guard" for your walls, it is an opportunity to brighten your space and add a bit of color or personality to your kitchen design. If you are just adding one color, consider choosing between different textures like matte, satin, and high-gloss styles to give a new life to your kitchen. But if you think that your kitchen backsplash needs more than just color, start by selecting the material you wish to use for the new kitchen project.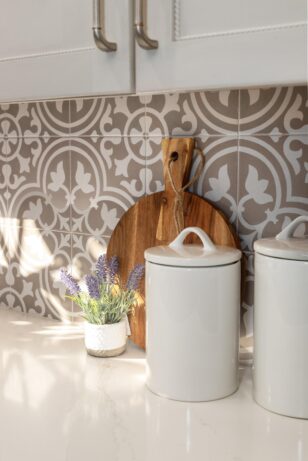 Cabinets
Cabinets are often the unsung heroes of a beautiful kitchen, but as functional as they are, they can make or break your aesthetic. The extra features you get with new cabinets are also not widely known. But once you have lived with a soft-close cabinet or drawer, you can't go back. 
So, whether you're looking for your cabinets to be the statement piece of your kitchen remodel or are looking for an understated style with maximum storage and functionality – make sure you consider what updating your kitchen cabinets could do for your kitchen remodel.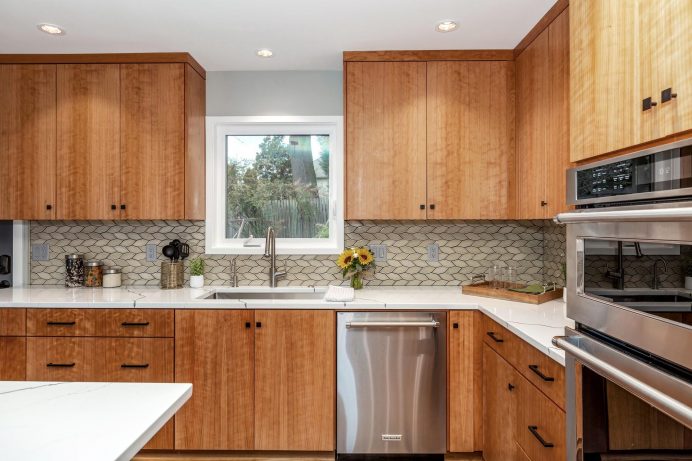 Flooring
Relaying the kitchen floor is both a time- and money-consuming process but few things give a new life to kitchen renovation like a new floor.
When it comes to flooring ideas, hardwood is the most well-known standard and material. Within hardwood, however, there are a lot of variations and differences. The most common form of hardwood flooring came in thick planks of solid timber. Solid hardwood is milled from a single piece of wood and hence a completely natural material. It is more adept at handling temperature and humidity changes.
Answering the Building Products Challenge
Oak and walnut are two of the most common hardwood choices and for good reason. Oak is durable and stains well while giving an appealing natural grain and is reasonably priced. Hickory, maple, ash, cherry are also good choices too so take your time and decide accordingly. If you prefer a light-colored hardwood floor, ash is an ideal option, while people who expect a lot of foot traffic should consider hickory as an option.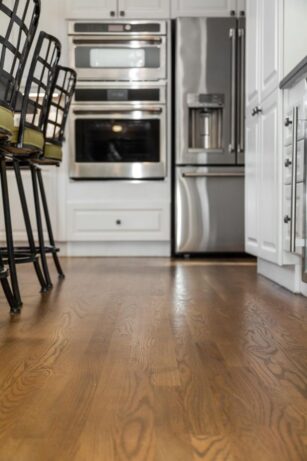 Open Shelving
Everyone who has been collecting various ceramics over the years…now is your time to shine! Open shelving isn't for everyone – but it can be a showstopper while maintaining function. It adds a sense of "largeness" to your space, not closing off and hiding the dinnerware you've spent ages collecting. 
There are also plenty of ways to get creative with your open shelving. You can leave open space to show off funky wallpaper, display a collection of ceramics or cookbooks, or customize it with hooks or baskets! You might also consider under-cabinet lights to add a bit of x-factor.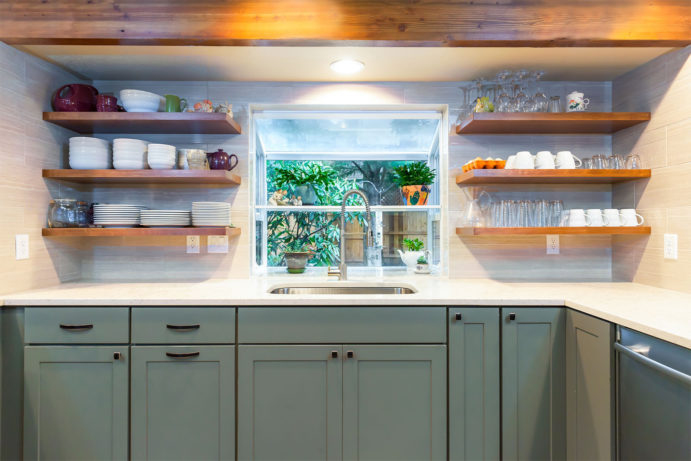 Lighting
One of the most brilliant ways to combine convenience with beauty for a kitchen remodel is to be creative (and smart!) with your kitchen lights. It is one of the most cost-effective tricks when it comes to kitchen remodeling ideas. The desired effect can be achieved by mixing and matching different fixtures in different spots in the kitchen. Depending on whether you are looking for ambient lighting or task lighting, you could plan the layout and the budget. There are countless kitchen lighting ideas.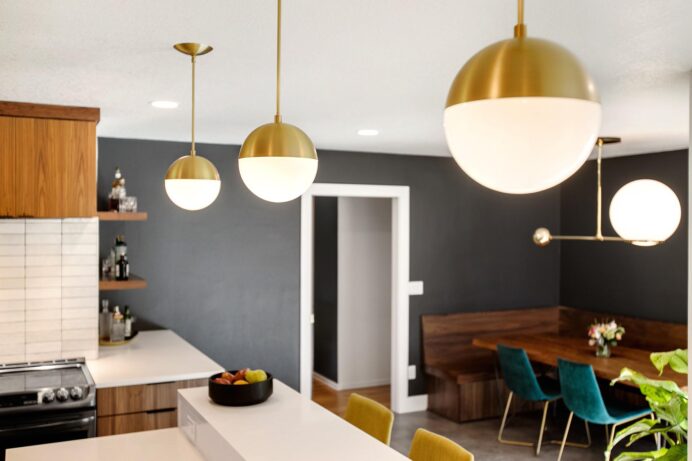 Does your kitchen need a refresh?
The design and remodel team at THE Remodel Group has more than 100 years of combined experience. As design-build remodelers, we can help you design to your vision and plan according to your budget. We handle everything — from design to construction, to clean up — and we are completely dedicated to making sure you are absolutely thrilled with the results.