If you're planning a master bath remodel, you may be wondering how to incorporate modern elements into your new space. Whether you're envisioning an entirely modern bathroom or simply want to incorporate a few modern touches into your design, we've got you covered.
Here are 6 of our favorite modern bathroom ideas to consider:
1. Add a skylight
Most people understand the benefits of leveraging natural light in home design, particularly when it comes to the main living area and kitchen. However, homeowners and designers alike often underestimate the importance of natural light in one of the rooms that can benefit from it most: the master bathroom.
Sunlight can brighten and illuminate any space, and since bathrooms are typically among the smallest rooms in a home, natural light is essential to make them feel larger and more inviting. Skylights are an excellent option for bathrooms because they provide plenty of natural light without sacrificing privacy.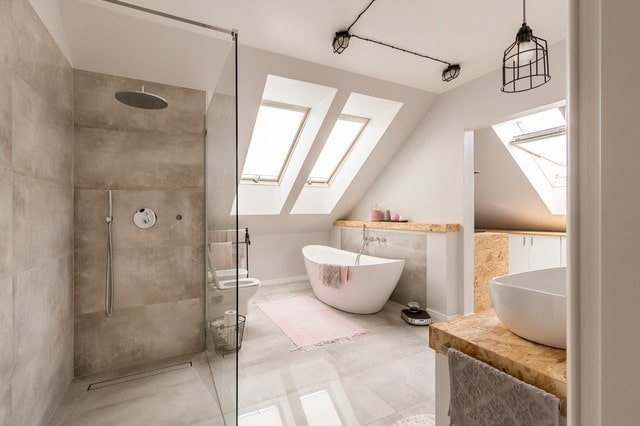 Natural light streaming in through a  skylight above your shower, bath, or sink is an instant mood-booster and gets your day started right.
2. Make your bathtub the focal point
The style and positioning of your bathtub are foundational elements of your master bathroom design. Allowing your bathtub to take center-stage instantly adds a spa-like, modern feel and provides the perfect starting point for designing the rest of the room.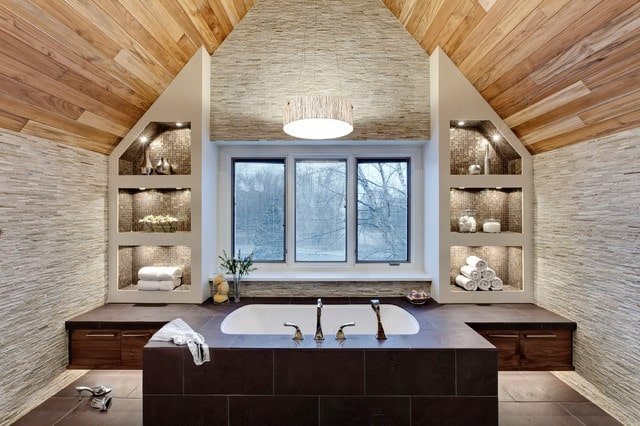 Here are a few of our favorite ways to highlight your bathtub as the focal point of your space:
Place your bathtub in the center of the room to create a striking focal point in a large master bath.
Choose a statement shape like a vintage clawfoot or Japanese soaking bath, or a unique material such as a wooden barrel tub or a double slipper in hammered copper.
Situate your bathtub directly under a window or skylight to take advantage of a soothing view and illuminate the bath with natural light.
3. Make the room feel bigger with an open shower
Open showers are all the rage these days and for good reason. Opting for an open, walk-in shower over a closed stall visually expands your master bath, making the room feel larger and giving it a luxury feel. Natural colors and materials, as well as the effective use of light, also add to this effect.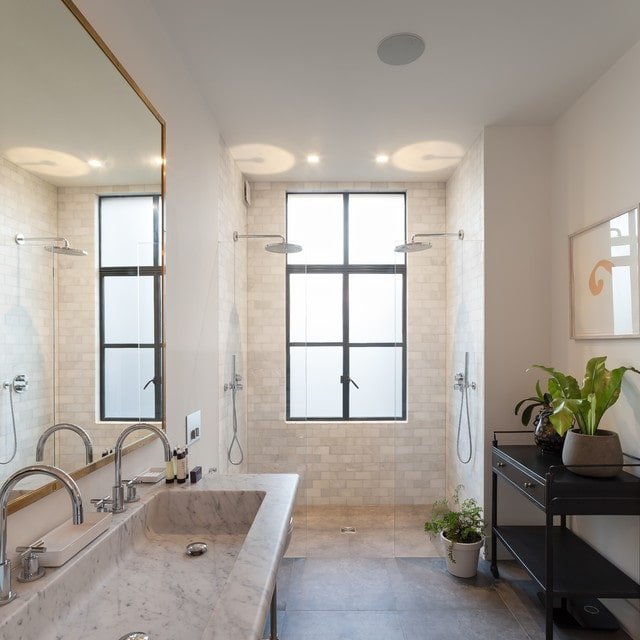 As a bonus, zero-threshold (also known as curbless or walk-in) showers are an easy way to begin incorporating universal design principals and increase your home's value by providing for aging in place.
4. Line the walls with subway tile
Clean, crisp white has always been a popular choice for bathrooms, and that's not changing any time soon. More recently, grays and blacks have made their way into the mainstream when it comes to bathroom design. Covering your bathroom walls with subway tiles is a great way to mix these trends in a subtle way. Try combining crisp white tiles with dark gray or black grout.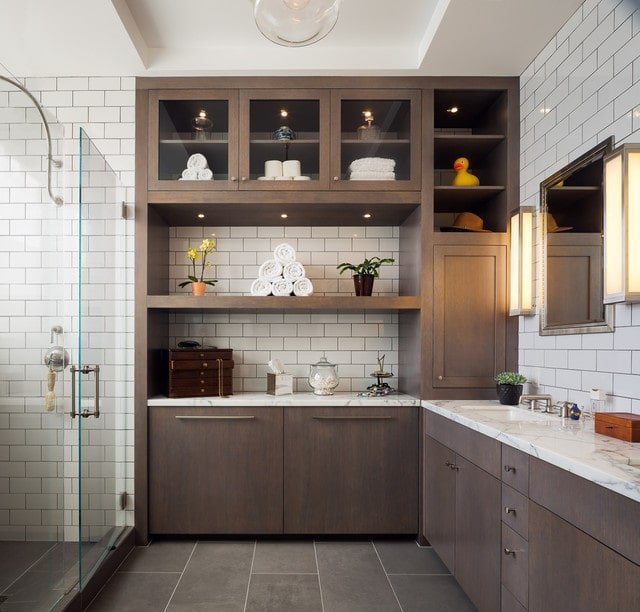 While more eye-catching than traditional white walls, subway tiles still provide a clean backdrop for other modern elements to take center stage.
Here are a few of our favorite master bath design trends to pair with subway tiles:
Heated tile floors
Slip-resistant LVT flooring in concrete or wood finish
Walk-in showers with clear glass doors
Greenery or potted plants
Statement wall art
Gold or brass sink and shower hardware
Subway tiles are traditionally white and measure 3 by 6 inches, but this is not your only option. In recent years, more homeowners have been choosing larger versions such as 6" x 12" or different proportions like 4"x12".  A non-traditional color is another way to update this classic design. Try a sophisticated gray or taupe – or punch things up with sunny yellow or soothing blues and greens.
5. Opt for double sinks
Double sinks are an obvious choice if you share space with a spouse or partner. But even if you live alone, twin sinks are still worth considering. Not only do they add a high-end feel, they actually increase the value of your home significantly, since many buyers look for this feature in a master bath.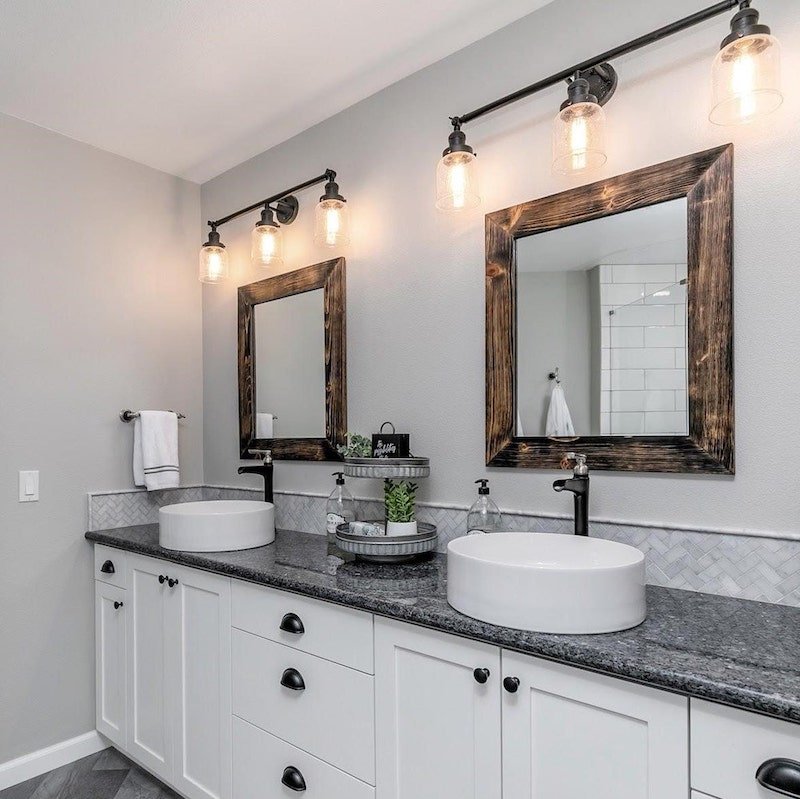 Obviously, you don't want to cram two sinks into a space that can really only accommodate one. But if you have the space, it's worth the extra cost. Twin sinks in a double vanity also add counter and storage space, providing a dedicated area for each of you.
6. Incorporate dark colors and calming touches
Darker tones, from deep blues and greens all the way to charcoal and black, have become popular in modern bathroom design recently. Whether you choose to go all-in and cover your walls and floors with dark gray tiles or simply want to incorporate deep burgundy bath mats and accent towels, these darker colors are sure to add a modern touch to your space.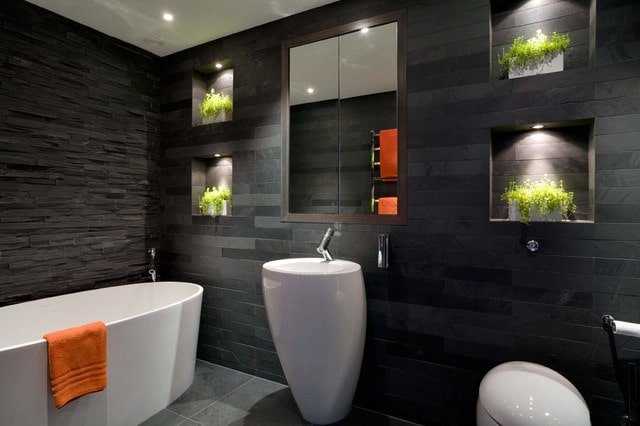 Dark colors may seem intimidating, but they can be very calming when paired with the right design elements. You can add softness to your space by offsetting darker tones with touches of white, soft edges, and bright accents. Also try mixing dark colors with mirrors and lots of natural elements, like indoor plants and wood, to create a calm and tranquil oasis.
Are you looking to update your master bath? Let us turn your vision into reality.
At THE Remodel Group, we are committed to delivering the highest quality customer service. Our designers and remodeling team, along with our fully-staffed office personnel, are with you every step of the way. We use 3-D design technology to help you visualize your design, and our interactive client portal allows you to stay up to date and watch as your project takes shape.
Ready to experience excellence? Call us at (503) 869-1290 or contact us online today!